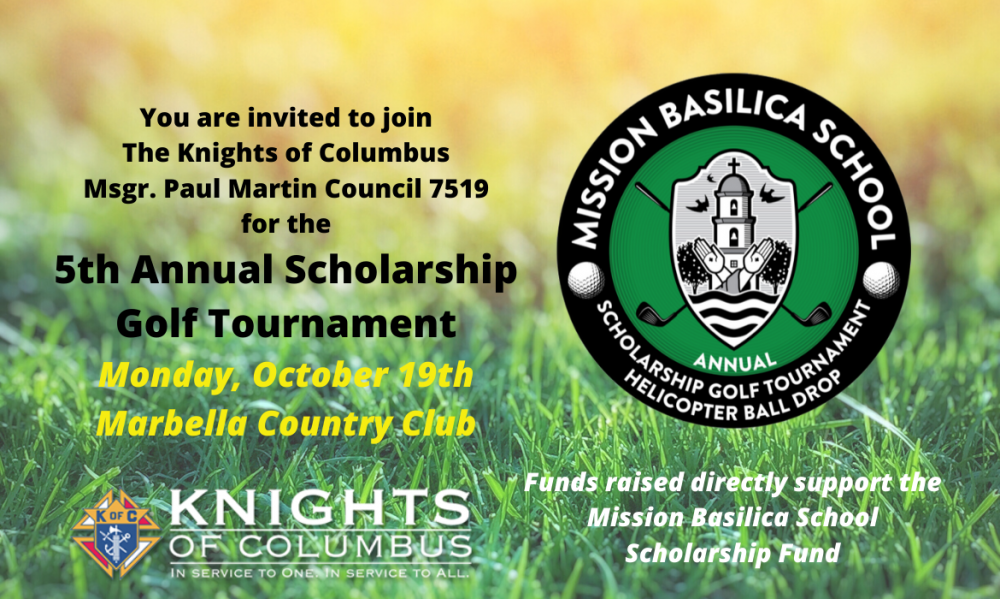 We are pleased to announce that the Knights of Columbus are again hosting the 5th Annual Mission Basilica School Scholarship Golf Tournament is rescheduled for Monday, October 19, 2020 at the beautiful Marbella Country Club in San Juan Capistrano.  
The Knights of Columbus and Mission Basilica School are hard at work right now to make sure that the Tournament is as successful as last year. We need your support on the golf course. There are several ways to support this great event:
If you have any questions, please contact John Tenery, Golf Tournament Chair, 949-678-6678.   A big thank you to the Mission Basilica Knights of Columbus Monsignor Paul Martin Council 7519 for their help supporting this Mission Basilica School Scholarship Golf Tournament.
Hope to see you on the Green on October 19, 2020.
Rev. Msgr. J. Michael McKiernan  -  Pastor/Rector
Jack Aubuchon  -  Knights of Columbus
Golf Tournament and Helicopter Ball Drop
Entry includes golf, cart, BBQ lunch, dinner, tee gift, and more.
Marbella Country Club - 30800 Golf Club Drive, San Juan Capistrano CA 92675
$250 per golfer, $38 for dinner only
John Tenery - 949.678.6678 - jtenery@gmail.com
GOAL:$25,000.00
ACHIEVED:$17,641.00